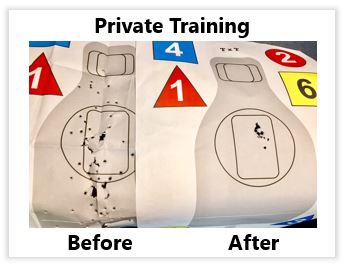 Private Training Sessions
Tailored, one-on-one training to meet your needs, including classroom time, range time or both. Whether you're a beginner, intermediate or advanced, you'll learn a ton and have fun along the way.

1 person = $75 (1 hr.); 2 people = $100 (1 hr)
Intermediate/Advanced, in-front-of-the-line instruction: 1 person = $110 (1 hr.)
For all our training sessions, safety is our top priority. Our instructors work hard to take the mystery out of firearms, helping you to be safe and do well. When you have a better understanding of what the firearm(s) will and will not do, it quickly becomes a much more understandable tool (and you'll quickly realize you can be good at this!)
Signing Up: Sign Up Online via this link. This includes private training sessions as well as our classes.
What You'll Need:
hearing/eye protection,
ammunition
firearm (no-cost rentals available if needed)
waiver on file
You will need hearing and eye protection, so if you have that already, please bring them along. If you don't have some already, we have a variety for sale here. Any time you practice (which we hope you do often!), you'll need those, so no better time to pick them up than now.
Other than the lesson itself and basic hearing and eye protection, your only other expense will be a little bit of ammo in the calibers you plan to shoot. And you can decide on caliber part-way through the lesson if you'd like. For new shooters, it's sometimes easier to decide once you've worked with the instructor for a little bit; plus, your instructor may have some recommendations for you.
There is no charge for renting firearms when it's part of a training session.