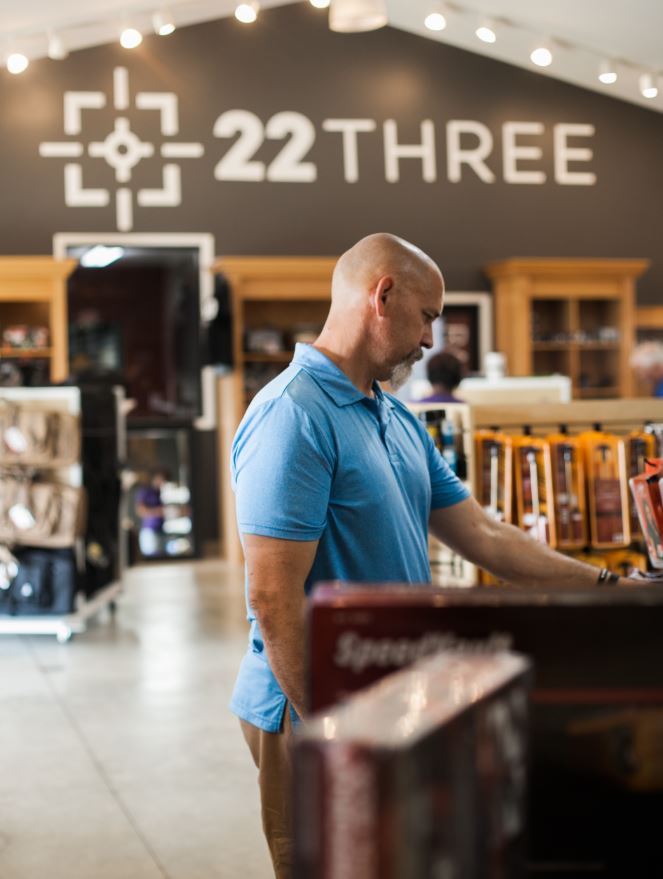 Shopping at 22three -- our response to trying times
The amazing staff at 22three has always worked hard to help each customer find what they need. Since March 2020, our procedures have changed as product becomes more difficult to source, but we're happy to report that we always have a certain amount of firearms in the store that you won't see on our web site.
Important Note:
We have product in our store that you will not see on our web site! There are firearms and ammunition (as many calibers as we can source) available in store that we do not put online.
We hope you'll Shop Our Online Store! But before you do, please note...
22three is a master dealer for nearly all major manufacturers and most of the smaller ones, too. While manufacturers are backordered on many things, we do get in high-demand guns weekly (although not as many as we'd like), so the best way to see what's new is to stop in.
In the store, you'll find
firearms,
AR accessories,
holsters,
cleaning supplies,
small safes,
range bags &
a bunch of other cool gear.
Stop in to see what's new. Again, feel free to shop our online store, but remembers that some things show out of stock online that may be available in our retail store.
If you find something you want online and it is n stock, great! You can order it online and have it shipped to our Lebanon store for pickup at no extra charge. Because of the thousands of makes and models out there, if a specific item shows out of stock online, there's a good chance we have it backordered. Nonetheless, we do get in firearms weekly by manufacturers such as Glock, Smith & Wesson, Ruger, Taurus, Springfield, CZ, etc. so it's always best to stop in periodically to see what's new. Same goes for ammo.
Experience great service and talk to the friendliest staff around at 22three.