Concealed Carry
Keep reading for information about CCW, Executive CCW, and Legal Refresher training.
CCW
By far our most popular training class, our 8-hour CCW program includes classroom and practical range training. This class covers firearm safety, actions of various guns (how they function), key fundamentals for shooting well, and the do's and don'ts of Ohio law related to owning and potentially using a firearm in a defensive situation. It also includes live-fire, small group coaching on the range to put what you've learned into practice. We enjoy helping new and experienced shooters gain knowledge and advance their skills. $119 (8-hr)
Prerequisite: None
Required Equipment: Students will need hearing and eye protection, and approximately 100 rounds of ammunition. We realize new shooters may not know which calibers they want to shoot, so we set aside time for students to purchase what they need after we have discussed pistol actions and calibers but before heading to the range.
Do I Need My Own Firearm?: You may use your own firearms or ours. If you own a pistol for practice or that you may want to use for concealed carry or home defense, we encourage you to bring it so you can practice with what you already own. If you do not have a firearm or if you simply want to try some different models, you may use ours at no cost during the class.
A note about winter CCW classes: Thankfully, we have never had to postpone or reschedule a CCW class due to weather. We know our customers have gone out of their way to rearrange schedules, ask off work, etc. to take their CCW classes on specific days. We respect that and are super happy you chose 22three. We want to honor your time and will run CCW classes as scheduled unless there is a Level 3 snow emergency.
Dates: See all our class sessions when you sign up online. Of course, we also love it when people call or stop in. See you soon!
Executive CCW
Our Executive CCW training is for folks who want a truly customized, one-on-one training experience; individuals who travel a lot or otherwise need to 100% fit a CCW class around their unique schedule; or people with high profile careers who desire the utmost in privacy.
Executive CCW includes a full eight hours of personalized training, and so the cost starts at $560 for 1 person. You can spread it out over multiple days or do it all at once. It's completely up to you. Valuable regardless, when CCW training is customized and one-on-one, we can definitely do some extra things for a truly amazing training experience.
If this interests you, please contact Wendy directly at wendy@22three.com for pricing and scheduling specifics.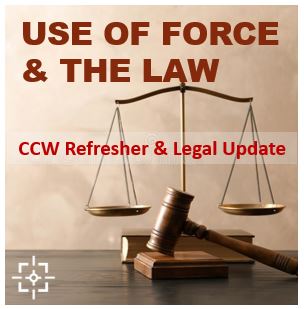 Constitutional Carry & the Law
This class focuses on key aspects of constitutional carry in Ohio law and use of force. Just as important as knowing how to use a firearm safely, we also need to understand use of force (when a firearm can and cannot be legal displayed and/or used in a potential self-defense situation) to avoid unintended civil or criminal liability. We want you to be physically safe, but we want you to be legally, morally and financially safe as well.
If you're a current CCW holder who wants an update on concealed carry, constitutional carry and changing Ohio laws, this class is for you.
This class is also useful for out-of-state permit holders who need to "pick up" Ohio legal (in conjunction with live fire training) to obtain an Ohio CCW permit*. $49 (2-hr)
Note: While not refundable, training classes may be rescheduled with 5 days' notice.
*The Sheriff's Department, not 22three, determines if an out-of-state permit holder can obtain an Ohio CCW permit with this training combined with a live-fire session and his or her out-of-state permit.
**The Sheriff's Department, not 22three, determines if online CCW training qualifies for the classroom portion of your CCW training. If you have taken a qualifying online CCW training class, this class along with a live-fire training session fulfills the legal and competency portion for those who have taken state approved online CCW classes.
Dates: See all our class sessions when you sign up online. Of course, we also love it when people call or stop in. See you soon!