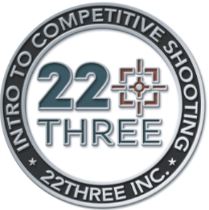 Intro to Competitive Shooting Clinics
Proficiency. Capability. Responsibility. These 2-hr modular clinics introduce new and average shooters to the skills used in IDPA-style amateur competition. Call, stop in, or sign up online.

Who: Shooters looking for a fun way to practice with others; shooters seeking to learn about and test their skills through competition.
Why: Have fun shooting under time pressure against other shooters. Receive friendly coaching in an encouraging, fun environment.
Be better. Be ready.
When: Most Mondays, see our schedule for details
So, bring a friend and work through 22three's Intro to Competitive Shooting (ICS) training modules.
Complete all 6 primary ICS training modules and earn 22three's ICS Challenge Coin.
Prerequisite: Quality CCW class or equivalent.
Cost/Time: $30/2-hr (each)
Intro to Competitive Shooting (ICS) Clinics Include:
ICS — Managing Recoil & Multiple Targets
ICS — Competitive Draw
ICS — Reloads
ICS — Moving to Shoot & Shooting While Moving
ICS — Position Shooting
ICS — Gear, Table Starts & Props
ICS — Women's Class*
*The Women's Class covers the same material you'll find in our other modules, but in an all-female class. Topics will vary between all the Intro to Competitive Shooting modules.