Two-Stage Matches
Join us for this two-stage, timed and scored IDPA-style* match in a friendly environment.
Who: Everyone is welcome, and matches are designed for all skill levels!
Why: Two-Stage Matches are a fun, testing ground. For $15 and as much or as little time as you like, you can shoot a standard IDPA stage to help determine your classification and see how you stack up, along with another stage to test your skills and try something new.
When: Two-Stage Matches are held on the 4th Thursday of the month through April, then will likely move to 4th Mondays. We'll give everyone as much advance notice as possible. For all matches, stop in between 5 and 7:30 p.m. to participate in the match. (But, please check in by 7 p.m.)
Requirements: We generally follow IDPA gun and gear guidelines, with a couple notable exceptions. We do not allow holsters with retention devices activated by pressing with your trigger finger. And, unless directed in the stage description, all pistols may be loaded to their physical capacity.
*While not an official IDPA match, each 22three Two-Stage Match is designed to give folks an exciting match and reduce barriers to entry to the fun, exciting and useful world of practical pistol competition.
Troubleshoot, Train, and Come Back Stronger: Sometimes we have gear that fails in a big way. We've all been there. Let's think of it as a positive. As much of a bummer as it can be, gear breaking down on you in a match is extremely valuable information. Part of the beauty of competing is that it puts you and your gear to the test in an environment where the worst that will happen is your shooting buddies will give you some good-natured ribbing while helping you figure out what went wrong. A DNF or a score less than you wanted stings a bit, but it's so much better than finding out when it really matters. Troubleshoot, train, and come back stronger next time. There's no losing, only learning.
Stop in or sign up here.
Check out the most recent scores!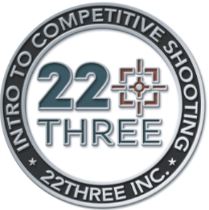 Intro to Competitive Shooting Clinics
We're taking a brief hiatus from our how-to clinics for Intro to Competitive Shooting.
Check back later for more information.
Intro to Competitive Shooting (ICS) Clinics Include:
ICS — Competitive Draw & Managing Recoil, Part 1
ICS — Competitive Draw & Managing Recoil, Part 2
ICS — Competitive Reloads
ICS — Moving to Shoot & Shooting While Moving
ICS — Position Shooting
ICS — Gear, Table Starts & Props